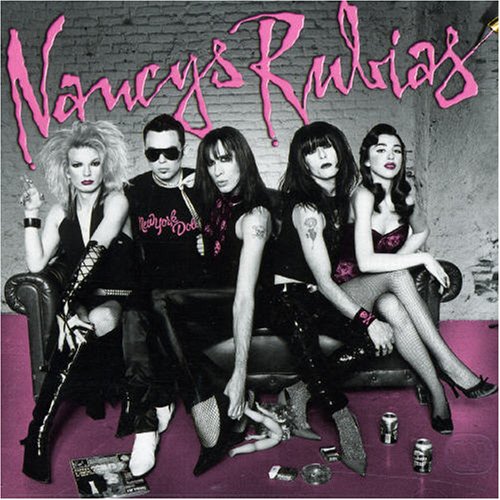 A few years back we took a trip to
Valencia
for my birthday. It was a cracking place, but the week of our visit saw a dry desert of gigs. The only thing that looked halfway watchable was a
New York Dolls
show at a small club on the outskirts of the city. Cited as support on the massive posters slapped all over town were an act called
Nancys Rubias
, whose logo cheekily aped the lipstick scrawl style of the headliners. We figured they sounded fun already, but weren't prepared for the distinctly strange experience that they offered.
I always forget that stuff in Spain never kicks off until well late. It's all them blimmin' siestas that do it. So obvious we get there way too early. We saw a side door open and heard some muffled musical sounds coming out, so we thought we'd go in for a nose. There on stage were five glammed up characters looking every part like a bus queue outside a Mighty Boosh convention. The music was playing loud - a breathlessly daft Hi NRG electro version of Teenage Kicks - but no one on stage appeared to be doing anything, shy of the odd vocal intervention. Surely this lot couldn't be about to mime their way through a New York Dolls support?
Oh yes they can!
Sat around the street cafe outside before the doors officially opened, the band soon arrived, and were met with a collection of big hugs and slight smirks of derision. Were these local heroes or an unlikely national institution? It was difficult to tell. But by now we were busting to see how they went down live.
Eventually the venue opened and as it was still filling, the Nancys took to the stage. The glam outfits of before were clearly just their street wear as now the boards were awash with PVC, leopard skin and fishnets. A lanky frontman in high heels who looked like a slightly fey bricky pace the stage like a cat on two legs, flanked by a massive-haired guitarist looking every bit like Vince Noir and a peroxide blonde man-gal on keyboards. Hiding at the back was a short-haired leather-clad rock 'n' roll boy, but best of all was a Betty Page-alike in a swimsuit and tights sexily poised with a triangle! This was surely the best band in the world, and they hadn't even started playing yet.
And when they did start to play it wasn't entirely a let down. Disco-fused glam rock with massive electropop kicks and gloriously lisped sissy-boy vocals in the 1920s music hall tradition. And yes, it was almost entirely mimed. But somehow that made it better. Put this lot on the same support slot back home and they've have been bottled off in minutes, but here it made perfect, fabulously glamourous sense.
They struck some kind of curious chord deep in my head, so some months later I tried to tack them down and see what their story was. All I could find was their eponymous album on Amazon, which took eight months to finally arrive. On here on this shiny slab was every song they played that night in Valencia, in exactly the same order, sounding exactly the same. Fabulous. I almost wanted to know no more, but that nag kept on until somebody finally posted a potted history on Wikipedia.
It turns out they were somewhat of a pet project svengalied by the wife of front man
Nancy Anorexica
- the much older
Alaska
from the cult goth electro band
Fangoria
. And more surprising it transpired that they'd had a string of Spanish top ten hits. But there was tragedy too. Just before the release of their third album, the blonde of the band,
Nancy Rubia
himself, threw himself from a notorious suicide bridge behind the Royal Palace in Madrid. A sad end to a fascinating and truely unique band.
There's was a flame that burned brightly - albeit in a slightly different colour to usual - and snuffed quickly. But they left a gloriously beautiful sooty wick.
All photos
©
lays with the owners
Videos from YouTube. Underlying
©
lays with the owners of the clips.